With numerous vacation spots located all over the world, deciding where you would love to spend time with your family and friends could be a bit of a headache. Every holiday destination around the world has a set of perks they could boast off but only few offers as much diversity as Tenerife.
As of January 2022, Tenerife boasts a land area of 2,034 square kilometers and a population of 978,100 people. This incredible island has proven to be one of the world's top vacation destinations. Tenerife receives nearly 5 million visitors per year, making it the most visited island in Spain's Canary Islands. It is a popular tourist destination in Spain and around the world. It is also the location of the Carnival of Santa Cruz de Tenerife, one of the world's largest carnivals.
From the serene atmosphere of the beautiful beaches to high adrenaline pumping activities such as buggy tours, Tenerife boasts of a beautiful mix of tranquility and adventure, a mix only a few vacation destinations in the world can claim to offer.
With different buggy safaris Tenerife has to offer, it is safe to say there are a lot of options to pick from. A perfect activity that can be enjoyed by both family and friends alike, no doubt. Let's take a ride and check out the best buggy tours in Tenerife.
1. Top Buggy Adventure Tenerife
Top buggy adventure is one of the most popular Tenerife buggy tours. With hundreds of reviews on TripAdvisor, majority of which are extremely positive, Top buggy adventure is guaranteed to be wonderful experience.
The tour starts from their base. Costa Adeje, Playa de las América, making a circular route crossing the south-west coast towards El Teide National Park, after which a descent will be made through Vilaflor, the highest town in Tenerife, towards the East to return back to base.
The company that organizes the daily Tenerife buggy trips is called Top Buggy Tenerife. Top Buggy buggies seat two people and are fully automatic. These Tenerife dune buggies are simple to operate and perfect for a guided buggy safari to Teide.
Top Buggy Adventure in Tenerife is located in Costa Adeje, near the port of Puerto Colon. Participants in each tour must get there on their own, which is often accomplished by walking or taking a taxi. The price of admission starts at €180.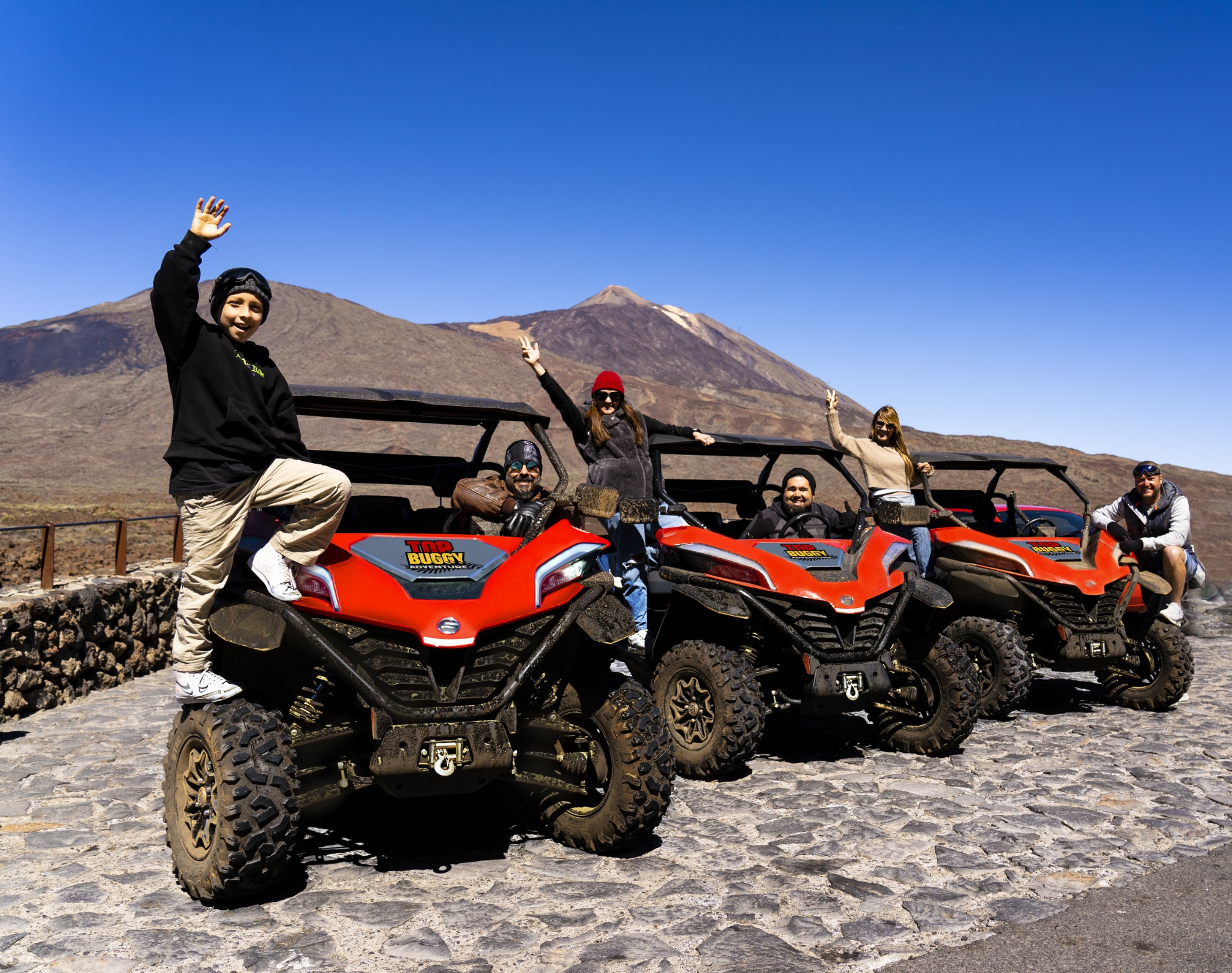 Hotels Near Top Buggy Adventure Tenerife
Iberostar Las Dalias
Located 0.5km from Top Buggy Adventure Tenerife. The Iberostar Las Dalias hotel is a full-service establishment located where you can spend a relaxing vacation just a few kilometres away from this wonderful Tenerife buggy expedition.
Within its convivial, family atmosphere, every guest will find the type of relaxation they seek.
The Iberostar Las Dalias hotel has 429 rooms with excellent facilities, as well as services such as hairdressers, an all-inclusive option, two adult pools and a children's pool, live show cooking, Monkey Club, Dolphin Club, professional shows, free Wi-Fi, a children's park, a fitness room, sports activities, massage service, and top-notch cuisine at two restaurants and three bars all designed to make you enjoy your stay near this Tenerife buggy location.
This hotel has also been recognized for its staff's friendliness and attentiveness. "Wave of Change" is an innovative initiative from the Iberostar group to reduce the use of plastics, promote responsible seafood consumption, and improve coastal health in Tenerife and the world at large.
The price of a room per night starts at €263.
Vanilla Garden Boutique Hotel
Located 2.4km from Top Buggy Adventure Tenerife. Vanilla Garden is a small and cozy hotel in Tenerife that was completely renovated in 2014, with traditional architecture that resembles typical Canary Island houses with wooden balconies and gabled roofs.
This hotel offers guests a special serenity not experienced everywhere in Tenerife. A recommended hotel if you are looking to relax after an adventure-filled day riding dune buggies.
A landscaped central courtyard with balconies leading to the garden gives the impression of being inside a Canary village on the island of Tenerife. Corners, up and down stairs, and planters of various sizes make each corner unique and special.
There is also a brand new gym with a Jacuzzi and a recreation area. The rooms have everything you need to enjoy and relax in Tenerife, including the latest in design, such as modern and fresh colors throughout the room and LED lighting in the headboard of the bed and in the shower, which adds a bright, nice touch.
There is free Wi-Fi throughout the hotel, so you can stay connected at all times. The Vanilla Garden is designed specifically for couples who have decided to take a vacation for the serenity and Tenerife buggy, and the hotel has been remodeled with this in mind. It is a hotel for adults only.
The hotel is located in the heart of Playa de Las Americas in Tenerife, and just a three minutes walk from the beach and close to all the trendy bars and restaurants along the promenade, from which you can easily walk around Las Americas, Costa Adeje, Los Cristianos, and of course this Tenerife buggy park.
The price of a room per night starts at €103.50 with discount.
Iberostar Bouganville Playa
Located 0.6km from Top Buggy Adventure Tenerife. The Iberostar Bouganville Playa hotel in Tenerife is a 4-star hotel with a pleasant atmosphere and excellent service that offers fantastic accommodation for couples and families with children on holiday for the Tenerife buggy tour.
Fun comes as standard at the Bouganville Playa hotel. Children will make friends on your family vacation to Tenerife at the Monkey Club, where they will participate in a variety of adventures, games, and activities while being supervised by assigned monitors.
Besides buggy riding in Tenerife, they'll also enjoy the children's playground, shows, and pools. There's something for everyone in this Tenerife hotel, so they'll never be bored. Adults, on the other hand, have a special entertainment program, delicious cuisine available at two restaurants and three bars, a fitness room, a nearby golf course, free Wi-Fi, and other services and facilities.
The price of a room per night starts at €204 with discount.
2. Buggy Safari Tenerife
Unlike other buggy trips which are mainly restricted to designated main roads and highways, Buggy Safari is known for its off-road adventures. You will set out to conquer the island of Tenerife behind the wheel of your "Arctic Cat" BUGGY, one of the world's largest brands ("Trail" or "Sport 700 CC" model). Experience the exhilarating sensations and breathtaking scenery.
Following the briefing, you will depart from the small village of Tamaimo, accompanied by guides and a professional photographer provided by the Buggy Safari team. You will be able to access hidden areas in Tenerife for unique views.
You will see the famous El Teide volcano from various vantage points, culminating in the heart of breathtaking landscapes. While navigating lush tropical vegetation, you can also admire the ocean on Tenerife's coast in this buggy expedition.
A stop at the Lomo Molino lookout point will allow you to admire Tenerife's beautiful west coast.
Then, in the second part of this adventure, you will drive your Buggy off the beaten path through the forest on our "Adrenaline" route. Your journey with this Tenerife buggy will conclude with a gourmet treat which features free wine and a cheese tasting session.
The price of admission starts at €160.
Hotels Near Buggy Safari Tenerife
Melia Jardines Del Teide
Located 23.6km from Buggy Safari Tenerife. The beach is only a 9-minute walk away. Melia Jardines del Teide is centered on a massive pool complex in Tenerife and offers 12,000 square meters of gardens.
Each room has a balcony or terrace with views of the pool, the sea, or the beautiful Tenerife mountains, as well as air conditioning and satellite television. There is free WiFi throughout the hotel. Some rooms have Level services, such as a private lounge with free coffee and tea, a private check-in area, and a daily cocktail hour, as well as a private pool and rooms with a coffee machine and a panoramic bathroom. All for your pleasure a few kilometers from your Tenerife buggy tour.
The hotel has two swimming pools, one of which is reserved exclusively for The Level guests. The hotel offers a comprehensive entertainment program which is full of Tenerife culture. This ensures you can chill and relax after riding your dune buggies around Tenerife.
There is a buffet restaurant, an a la carte restaurant, a lobby bar, and a restaurant serving snacks. The hotel is located in southern Tenerife, just 18 minutes' walk from Playa del Duque beach.
The Costa Adeje Golf Club is 1.5 kilometers away. A free shuttle service is also available, allowing guests to take trips to nearby shopping centers and also to the Tenerife buggy location. This hotel is only for adults (+16).
The price of a room per night starts at €132 with discount.
Be Live Experience La Nina
Located 25.7km from Buggy Safari Tenerife. Be Live Experience La Nina Hotels is a luxurious four-star hotel in Tenerife's south.
It provides luxurious facilities for family enjoyment, having recently received the "Welcome Family" award from the government of Tenerife, with areas ranging from Mini Club, the mini disco, or special menus for children, all a few kilometers from your Tenerife buggy tour.
The hotel is located on the Adeje Coast, near Los Cristianos Beach and the Puerto Colon Marina, where you can take in beautiful views of the Tenerife coast and it offers a fun and relaxing atmosphere surrounded by recreational areas and shopping centers that are also close to your Tenerife buggy tour location.
As a result of its effective environmental management system, this hotel has received ISO 14001 certification.
The price of a room per night starts at €225.
Flamingo Beach Mate
Located 25.4km from Buggy Safari Tenerife. Three international awards have been given to Hotel Flamingo Beach Mate for its project and design. These awards include Archilovers Best Project 2019; AMP 2019, Hotel Architecture; and A'Design Awards 2019, Architecture, Building, and Structure Design.
The Flamingo Beach Mate in Adeje has an outdoor pool, a children's pool, a fitness center, and a garden. A terrace and a bar are among the various amenities. The hotel provides free WiFi. Every apartment and studio in the hotel has a flat-screen TV with satellite channels.
Each room has a private bathroom with a shower and free toiletries, while apartments have a kitchen. Each guest room has a seating area. Every morning, Flamingo Beach Mate serves a breakfast buffet. The accommodation's restaurant serves international cuisine. An awesome way to get fed before embarking on your Tenerife buggy tour adventure.
Staff at the reception desk can advise you on what to do in the area. Amazingly, the Tenerife Sur Airport is just located 16km away from Flamingo Beach Mate, making this hotel a no-brainer for families who would love to stay at a spot near the airport and the Tenerife buggy tour location.
The price of a room per night starts at €182.16.
3. Buggy Paradise Tenerife
At buggy paradise Tenerife, you will find experts in the field of excursion driving along with the most exciting offroad motor vehicles you have ever seen. The personnel at Buggy Paradise are not novices either, they have been in the sector for many years and serve as a key company in Tenerife.
All of their High Range Excursions have been custom designed to ensure that you spend the most beautiful moments of your vacation, whether you are a Couple, Family, Friends, Corporate Seminar, or Bachelor Party, you will be accompanied by a Multilingual Professional and Accredited Guide.
Although it is all-inclusive, passengers must be at least 12 years of age and at least 1.2m tall. You must also have a driver's license to drive a buggy.
Buggy Paradise is located in a very privileged location, 5 minutes from Las Americas and only 15 minutes away from Los Cristianos. This allows users to have easy and quick access to their services at all times.
The price of admission starts at €190.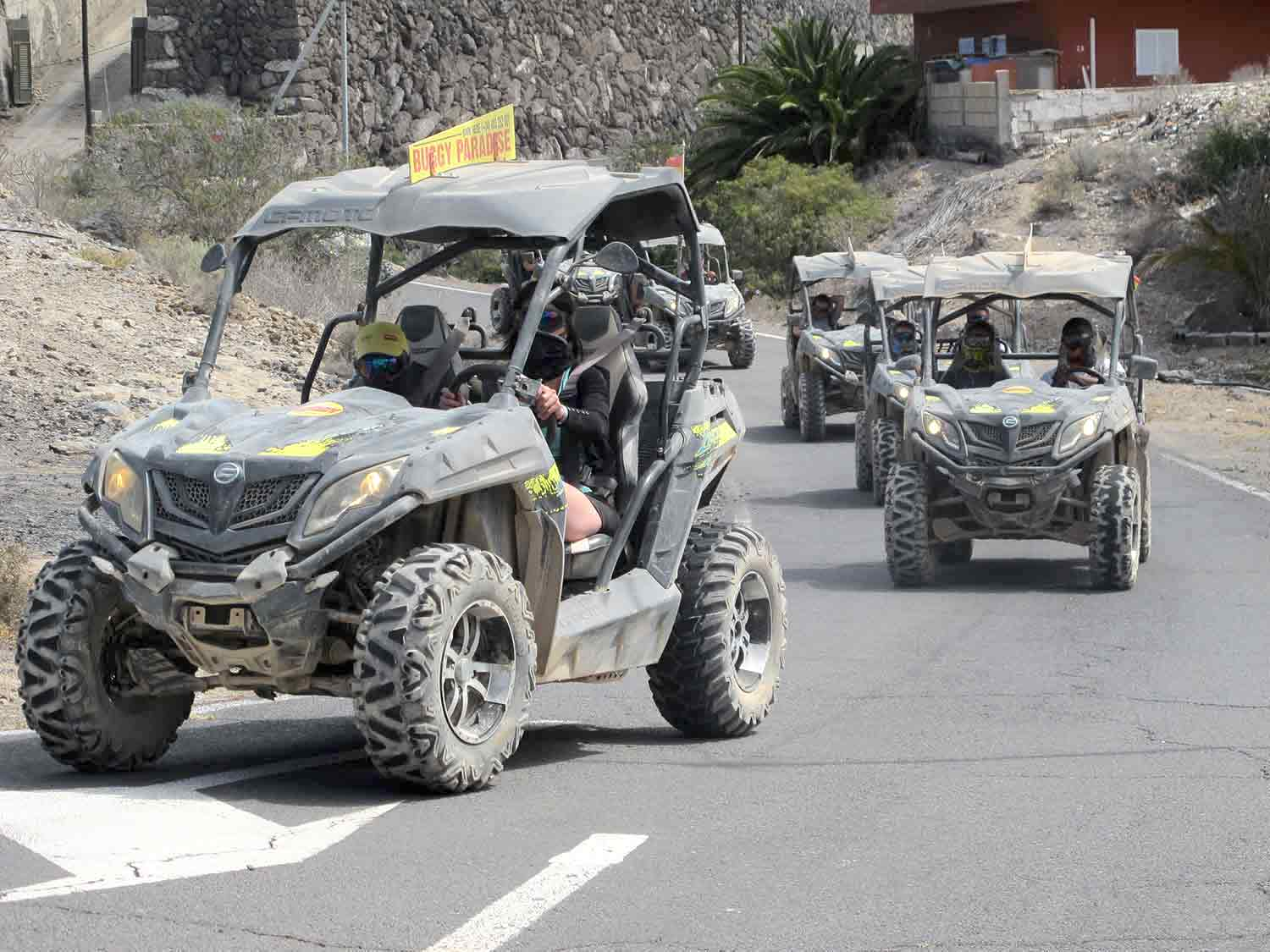 Hotels Near Buggy Paradise Tenerife
Hovima Jardín Caleta
Located 4.5km from Buggy Paradise Tenerife. This relaxed apartment hotel is a 3-minute walk from the nearest North Atlantic Ocean beach and 8 kilometers from the Thai-themed Siam Park water park, 12 kilometers from Las Aquilas Jungle Park zoo and a calm distance away from this Tenerife buggy location.
Wi-Fi, kitchens, flat-screen TVs, and balconies are standard in the casual 1- and 2-bedroom apartments. Ocean views are available in upgraded rooms.
A buffet restaurant serves breakfast. A heated outdoor pool with a separate children's pool, as well as a poolside bar and a sports bar, are available. A solarium, a hot tub, a game room, and bike rentals are also available to take you to your Tenerife buggy location.
The price of a room per night starts at €117.
Duque Nest Hostel
Located 4.9km from Buggy Paradise Tenerife. Set in Adeje, Duque Nest Hostel features a garden, shared lounge, terrace, and free WiFi throughout the property. Certain units at the hotel have balconies with mountain views.
Some rooms include a kitchenette equipped with an oven. Guests at the hostel can enjoy a breakfast buffet just before they head out to their Tenerife buggy tour.
Pebble beaches, a dark arena, an oceanfront promenade, two water parks, whale watching activities in their natural habitat, paragliding, Tenerife buggy and quad excursions.
The hostel is located in the heart of the south of Tenerife, close to the beach and places to go shopping, and of course your Tenerife buggy tour location.
The price of a room per night starts at €54.
H10 Atlantic Sunset
Located 4.6km from Buggy Paradise Tenerife. Located across the street from the North Atlantic Ocean's rocky shore. This upscale hotel is 4.2 kilometers from Golf Costa Adeje, 13 kilometers from Playa de las Américas' sandy beaches, and 26 kilometers from Tenerife South Airport.
A beautiful option for families that want a location close to the airport and also Tenerife buggy.
Living rooms are available in suites. Room service is available 24 hours a day, seven days a week.
There are 11 bars and restaurants on the property, with Italian, Japanese, and poolside options. Other amenities include a spa to relax after your adventure at the Tenerife buggy expedition.
The price of a room per night starts at €275.
4. Buggy-Doo Tenerife
Buggy-doo Tenerife serves as a beautiful alternative to tourists who are not only looking to ride in buggies but also quad bikes. The buggy-doo trip ensures you get beautiful panoramic views of the Teide volcano and so much more while you ride your Tenerife buggy across the beautiful island.
Along with the Teide another stop for this awesome buggy excursion will be at the Pino Gordo, an area which boasts of the two tallest pine trees in all of Spain's Canary Islands.
The price of admission starts at €150.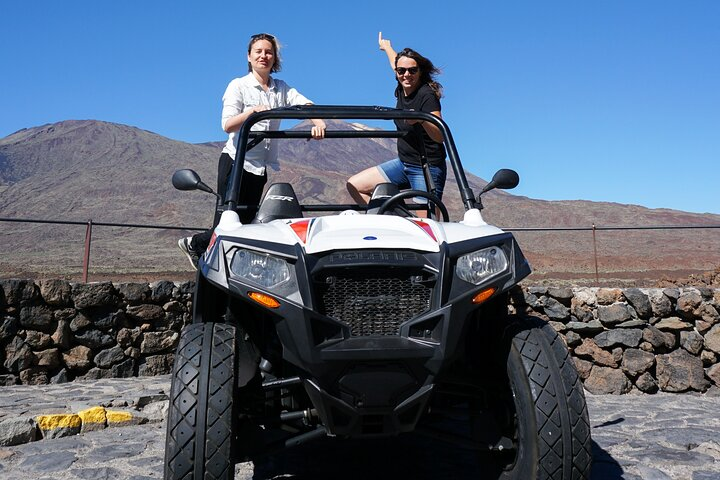 Hotels Near Buggy-Doo Tenerife
Ona Los Claveles
Located 4.7km from Buggy-Doo Tenerife. This relaxed apartment hotel is located in a popular resort area, 2 kilometers from Los Cristianos Beach along the Atlantic Ocean and 15 kilometers from Tenerife Sur Airport, offering a nice option for tourists who would like to be located close to the airport and this buggy tour location.
Casual studios include free Wi-Fi, kitchenettes, flat-screen TVs with DVD players, and sunlounger terraces. Living rooms with sofa beds are added to the 1- and 2-bedroom apartments.
There is no charge for parking. A restaurant/bar with a terrace is available. A heated outdoor pool, tennis courts, and a game room with a pool table are also available. There's also a convenience store and live entertainment on weekends incase you want to take a break from the Tenerife buggy tour.
The price of a room per night starts at €64.15.
Hotel Regency Country Club
Located 2.4km from Buggy-Doo Tenerife. This upscale all-suite hotel is 2 kilometers from Jungle Park, just 4 kilometers from the sandy Playa de Los Cristianos and a stone's throw away from this Tenerife buggy location.
The comfortable 1- to 4-bedroom suites include free Wi-Fi, satellite TV, safes, kitchens, living areas, and terraces. Some accommodations include direct pool access, 4-poster beds, and/or whirlpool tubs.
The local shuttle service which can take you to your Tenerife buggy trip is offered free of charge. A library, a convenience store, and a restaurant/bar are also available, as are two heated outdoor pools, a pool bar, and a hot tub. There are also play areas, mini-golf, a gym, a spa, a sauna, and an observatory. An all you can eat buffet breakfast is also available.
The price of a room per night starts at €116 for 1 nights with discount.
Bubble Hotel Rural La Correa Del Almendro
Located 4.4km from Buggy-Doo Tenerife. This cozy, down-to-earth hotel in a charming farmhouse dating from 1720 offers views of the mountains of Teide National Park and is 14 km from the vibrant Playa de las Américas, 82 km from Tenerife North Airport and less than 5km from this Tenerife buggy tour location.
Beautiful rooms include free Wi-Fi and televisions. Some include sitting areas, balconies, or patios.
Breakfast and parking are both free. A small restaurant with exposed wood beams is available. A terrace and an outdoor pool with mountain views are also available. These beautiful mountain views will also be in full view when you embark on this Tenerife buggy expedition.
The price of a room per night starts at €95.
Final Thoughts On The Best Buggy Tours In Tenerife
These are undoubtedly some of the best buggy tours you will find in Tenerife. The professionalism and thought that goes into these expeditions is bar-none. From the beautiful landscape to the incredible buggies, everything has been curated to perfection.