Of all the beautiful places the earth can boast of, only a few can claim to be as beautiful as the island of Tenerife. Tenerife is the largest and most populous of Spain's Canary Islands, just off the coast of West Africa.
Boasting a land area of 2,034 square kilometres and a population of 978,100 inhabitants as of January 2022. This incredible island has proven to be one of the top vacation spots in the world. Almost 5 million people travel to Tenerife every year, making it the most visited island of Spain's Canary Islands. It is one of the most popular tourist locations in Spain and the world. And it is where the Carnival of Santa Cruz de Tenerife, one of the biggest carnivals in the world, is held.
The Carnival of Santa Cruz de Tenerife is not the only spectacle Tenerife has to boast of. From amazing sights of cliffs, volcanoes and huge rock formations to amazing adventures in the best water parks on earth, Tenerife is every tourist's dream.
Siam water park, which is a Tenerife water park, boasts over 1 million visitors each year, alongside an incredible 34 thousand reviews on trip advisor. It is safe to say it is one of the most popular vacation spots for family and friends. Let's dive into the best water parks in Tenerife.
Siam Tenerife Water Park
Siam Park is a water park in the seaside community of Costa Adeje on the Canary Island of Tenerife. With all the water parks on Tenerife soil, Siam Park's attractions, structures, and dining establishments are the only that feature Thai design elements. The 25 buildings at the park make up the largest Thai-themed structures outside of Thailand.
Christoph Kiessling, the park's designer, was granted permission by the Thai royal family to use the park's name and theme. Nevertheless, in observance of the family's wishes, he refrained from recreating royal temples, palaces, or Buddha statues in the park.
Amazingly Siam Park holds the awards for the 2015 and 2017 Travellers' Choice Winner Tripadvisor: World's best waterpark. This should come as no surprise, as this incredible water park welcomes about 1 million tourists each year. In fact, over the years many have referred to Siam Park as the best water park in Tenerife.
Admission prices can be as low as €28. Let's check out some of the features that have contributed to giving Siam Water Park all these praises.
Park Spectacles In This Tenerife Water Park
Tower of Power
A vertical, transparent ProSlide Freefall that plunges riders through an area with fishes, stingrays and sharks.
Mai Thai River
Starting with the longest lazy river in the world, the mai thai river slide. This is an incredible experience. It also has the highest elevation of any lazy river at 8 metres. Riders have the opportunity to take a detour into a lift that goes to a slide which then leads to the shark slide, an area where the rider can view some sharks.
Wave Palace
A wave pool with an artificial white sand beach made by Scotland's Murphys Waves Ltd. Its waves are the highest of any wave pool in the world, standing at 3.3 metres high. The Wave Palace also hosts surfing classes provided by the park's surfing school.
Coco Beach Wave Pool
Completed in November 2018 by Murphys Waves Ltd. This water park slide is specially designed for kids and younger family members.
Hotels Near This Tenerife Water Park
Due to its reputation as a great water park, many people visit Siam park daily. As such, to avoid being a victim of long waiting lines for the rides or the restaurants, it is best advised to come early.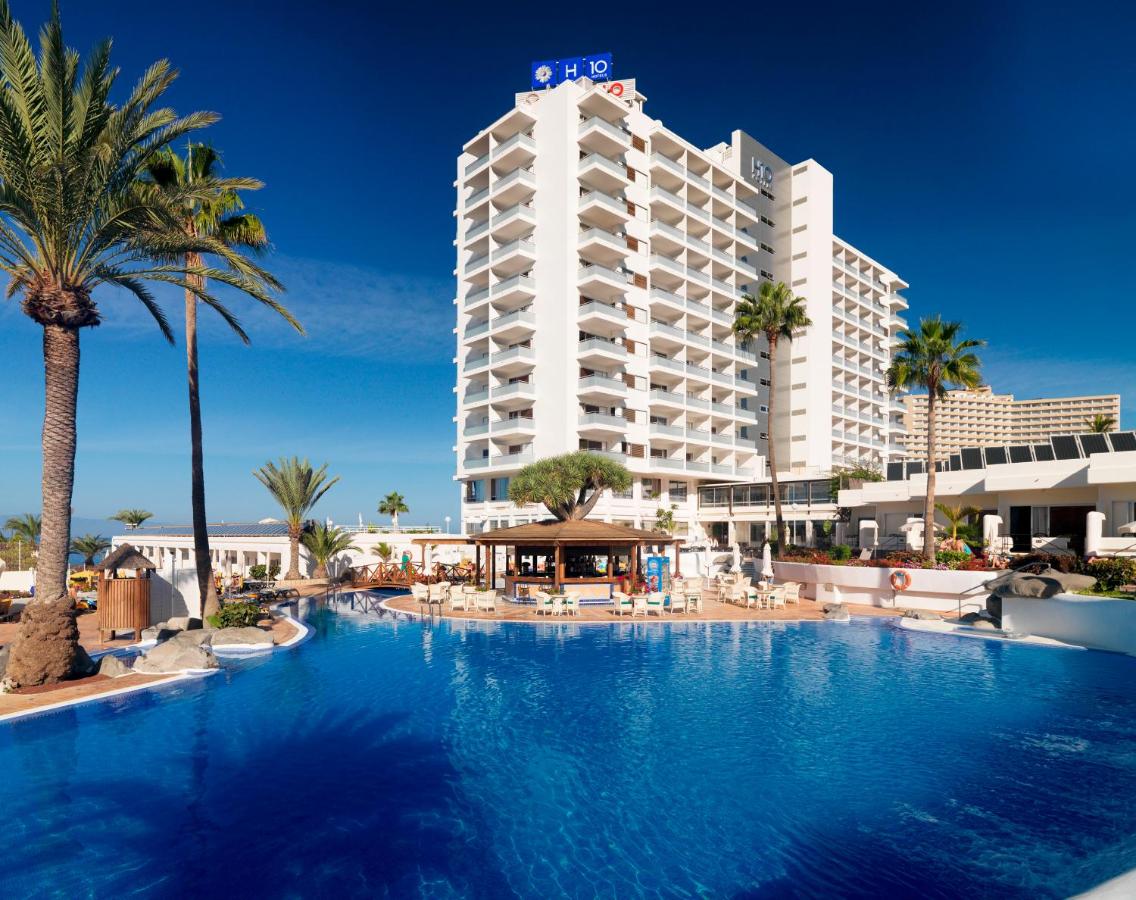 These are some excellent hotel choices to lodge in when you plan on visiting Siam Water park:
H10 Gran Tenerife
Located 0.6km from Siam water park. The highest-rated hotel within an 8-minute walk from Siam Park, Tenerife. The H10 Gran Tenerife hotel, an "only adults" establishment, is situated directly on the shoreline in the southern region of Tenerife's Costa Adeje.
To enjoy your vacation, it provides three swimming pools and sports facilities. Its extensive menu will provide you with the best meals from both domestic and foreign cuisines. The Playa de las Americas Casino, which is housed in the same structure, is also free to enter for hotel guests.
This hotel is also one of the closest hotels to Siam Water Park. The price of a room per night starts at €253.
Iberostar Bouganville Playa
Located 0.6km from Siam water park. The Iberostar Bouganville Playa hotel in Costa Adeje is a 4-star establishment with a welcoming ambience and first-rate service that provides fantastic lodging for families and groups of friends.
Fun is a given at the Bouganville Playa hotel. Children can make new friends at the Monkey Club, where they can engage in a variety of adventures, games, and other activities while being watched over by our monitors. They will also appreciate the kid-friendly playground, shows, pools, and other amenities because there is something for everyone to enjoy.
Adults have access to a unique entertainment schedule, exquisite food served at two restaurants and three bars, a fitness center, a neighboring golf course, free WiFi, and other amenities. The price of a room per night starts at €248.
Dreams Jardin Tropical
Located 1km from Siam water park. Dreams Jardin Tropical Resort & Spa is a luxury hotel located in the southern part of Tenerife for couples and families with kids.
It offers guests the ideal combination of a magnificent setting in Costa Adeje and luxury services, all accompanied by an atmosphere influenced by ethnic and local design. The price of a room per night starts at €280.
Setting and Maintenance In This Tenerife Water Park
Because the park was built on a hill, the slides may follow the terrain of the park in a manner akin to a roller coaster. As a result, they don't have the obvious support system found in typical water slides.
Water in the park has been heated to 25 °C (77 °F). According to Kiessling, the "first air-conditioned outdoor aquatic park in the world" is Siam Park. Siam Park includes an on-site desalination facility that desalinates 700 cubic metres of seawater each day to conserve the island's water resources.
The park recycles the water by using it to water the park's plants after it has been utilized in the rides. Siam Park also boasts the first natural gas plant in the Canary Islands.
Aqualand Costa Adeje, Tenerife Water Park
Aqualand is a chain of water-amusement parks run by the Spanish tourism group Aspro Ocio S.A which is the largest such group operating in Europe. And of the five Aqualands located in Spain, the most visited is the Aqualand Costa Adeje, Tenerife.
Aqualand Costa Adeje is situated in the south of Tenerife and offers a fantastic range of attractions, including its own Dolphinarium that houses up to 12 bottlenose dolphins. There are Kidzworld zones, Forestland and Dragonland, for the children.
At the same time, the whole family can choose to also enjoy Adventureland and the Wave Pool. The price of admission into Aqualand Costa Adeje starts as low as €45. Best of all, children under three years of age are allowed in for FREE.
Park Spectacles In This Tenerife Water Park
Tornado
A spectacular slide where the water's intensity, rhythmic fluctuations and centrifugal force will guarantee enjoyment.
Rapids
As the name suggests, a fast-paced adventure with unpredictable bends and curves.
Ciclones
Ciclones is a fantastic attraction with bowls that are 12 metres in diameter blended with 360-degree twists and lighting effects. It is more than 21 metres high and 140 metres long.
The Dolphinarium
Of all the spectacular sights provided to tourists by Aqualand Costa Adeje, none gets as much attention as the Dolphinarium and the dolphins (Tursiops truncatus).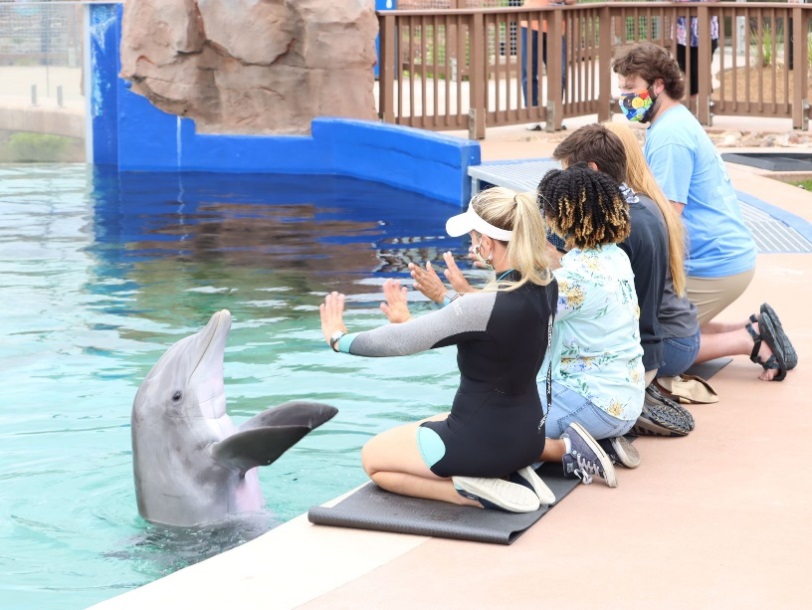 The Dolphinarium is constructed with the dolphins' well-being in mind. Likewise, the trainers complete the daily tasks to keep the animals in top shape. The dolphins are unquestionably the center of attention in the park.
Numerous interactive sessions with the dolphins are carried out every day, the most important of which is an educational exhibition to educate the tourists about these amazing creatures and create as much awareness as possible about the need to protect not only this species but also their habitat generally.
Hotels Near This Tenerife Water Park
Apartment Orlando Torviscas Bajo
Located 0.5km from Aqualand. Situated in Adeje, within 500 m of Aqualand, Apartment Orlando Torviscas Bajo offers accommodation with free WiFi, an outdoor swimming pool and a bar.
This property is located on the beautiful beachfront. It also has a tennis court and a terrace. The apartment has a fully functional kitchen, a balcony with views of the pool, a bedroom with a flatscreen tv with satellite channel options, a bathroom, bed linens, and towels.
The price of a room per night starts at €120.
BuenaVista Romantic Bungalow in Costa Adeje
Located 0.2km from Aqualand. BuenaVista Romantic Bungalow in Costa Adeje offers accommodations with a balcony, an outdoor pool, and free private parking.
The property also boasts mountain views. The apartment has a dining area, a fully supplied kitchen, a balcony with views of the ocean, two bedrooms, two bathrooms, bed linens, and towels. It also has a flatscreen T.V. with cable channels.
Guests at the apartment are also welcome to use the barbeque grills provided. The price of a room per night starts at €241.
Apartment Orlando Wave
Located 0.5km from Aqualand. Apartment Orlando Wave in Adeje features a restaurant, a front desk open 24/7, a bar, a garden, an outdoor pool, and a sun terrace with views of the garden.
There is free WIFI available for all guests. Each apartment has a kitchen with a microwave and a dishwasher, a safety deposit box, a satellite T.V., ironing equipment, a desk, and a living room with a sofa. Each unit has a private bathroom, shower, hairdryer, and complimentary toiletries.
If you want to explore the area, you can choose to hike or make use of the rental car service provided by the apartments. The price of a room per night starts at €120.
Lago Martiánez, Tenerife Water Park
Lago Martiánez is different from the other water parks on this list in that it is less of an amusement park and more of a swimming pool complex. A conglomerate of outdoor swimming pools, Lago Martiánez is situated in Puerto de la Cruz (Tenerife, Canary Islands, Spain).
The artificial lake serves as the focal point of the recreation area, which has a total size of about 100,000 square metres. Lago Martiánez is the largest outdoor museum of modern art with swimming pools in all of Europe. Cesar Manrique, a well-known Canary Island artist, was the brains behind this architectural masterpiece.
Along with Manrique, other outstanding painters like Wilhelm Reich contributed their ideas to the construction of this stunning location. It is one of the top waterparks in the world due to its fusion of entertainment and art.
On a regular basis, thousands of tourists are drawn to this complex by its attractiveness. Even well-known individuals like Winston Churchill, Richard Burton, and The Beatles have visited this outstanding waterpark.
Park Spectacles In This Tenerife Water Park
As stated earlier, Lago Martiánez is a large complex of swimming pools with floating islands. It is a stylish swimming facility with bars and restaurants during the day. But at night, the intensity rises to an entirely new level as visitors swarm to its underground casino. Check out some of the facilities Lago Martiánez has to offer:
Swimming Pools
The water park is formed by an artificial central lake and includes seven swimming pools; four for adults and three for children.
The deepest pool in the complex is about 2 metres, while the others range from 1.20 to 1.90 metres. Depending on the season, 3 to 5 vigilant lifeguards patrol this vast complex.
These pools are surrounded by sunbathing areas with sun beds and parasols.
In the evening, be amazed as multicoloured lights illuminate the pools. The largest of the five floating islands also has a stunning water feature that glows at night like an erupting volcano.
Restaurants and Bars
The complex has three restaurants and nine bars. Relax with a refreshing drink or a tasty meal by the pool. Each restaurant and bar has its specialties, ensuring visitors have a one-of-a-kind experience at each meal or drink stop.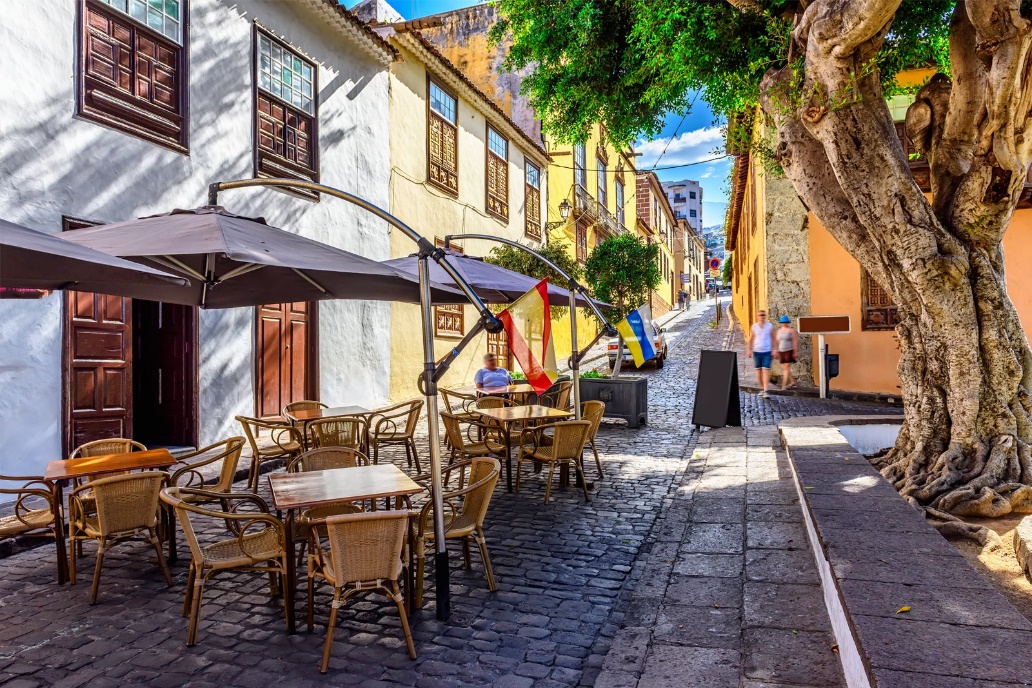 From ice cream to cocktails to tapas, Lago Martiánez has a large variety of choices for its visitors.
Casino
When the younger crowds have dispersed, the waterpark transforms into an exclusive casino similar to the playa des Las Americas. Located beneath the lake, Lago Martiánez is the only place in the world with a casino below sea level.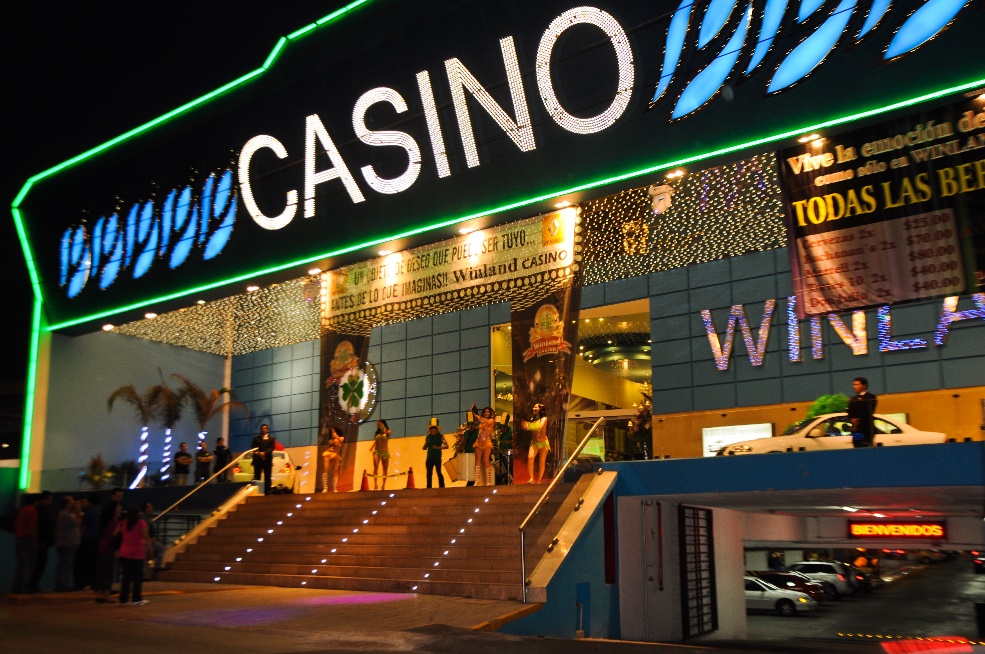 This lively casino has two lobbies devoted to slot machines and exciting tables. After a fun day in the sun, visitors can decide to play a game of blackjack or simply relax and enjoy the opulent ambience.
Hotels Near This Tenerife Water Park
Lago Martiánez is a popular tourist destination in Tenerife's northwestern region. As a result, visitors will never be short of options for lodging. Puerto de la Cruz has something for everyone, from opulent hotels to cosy apartment villas.
H10 Tenerife
Excellent seafront location, beautiful views from the room balcony, and attentive and friendly staff. All of this and more can be found at H10 Tenerife.
This 4-star hotel is ideal for couples and families looking for a fantastic holiday in Tenerife. The hotel has a buffet restaurant with a fantastic 180° glass wall that provides an excellent view of the surrounding area.
The outdoor pool, surrounded by lush gardens, is also ideal for a relaxing dip. The price of a room per night starts at €142.
Sol Costa Atlantis Tenerife
Located 50m away from Lago Martiánez. Each of the air-conditioned rooms at the hotel has an elegant décor and a balcony. Flatscreen T.V.s with satellite channels are available in all rooms.
A safe is available for an additional fee. The on-site restaurant offers a breakfast buffet and Spanish cuisine for dinner. A pool and a modern bar lounge with a terrace are also available.
The spa is on the hotel's top floor and has views of the sea. It has a thermal circuit, a sauna, a Turkish bath, and a pool with multiple water jets. It also provides beauty services such as massages.
There are free fitness facilities available. The Sol Costa Atlantis Tenerife is also located in the city centre, near a variety of shops, bars, and cafés. The price of a room per night starts at €129.
Hotel Best Semiramis
Located 1.5km away from Lago Martiánez. Hotel Best Semiramis is located in Tenerife on a cliff overlooking the Atlantic Ocean.
It has balconied rooms, a spa, and two outdoor swimming pools surrounded by gardens. Each room is air-conditioned and has simple décor and parquet floors.
Every room has satellite T.V. and a minibar. The Semiramis' buffet and à la carte restaurants serve a variety of Mediterranean and international cuisine.
A poolside bar and gym are also available. The spa has a hot tub, sauna, and massage services. The price of a room per night starts at €128.
Hotel Vallemar
Located 0.3km away from Lago Martiánez. The Vallemar Hotel offers stylish rooms with balconies. Paired with modern amenities and accommodating staff, staying at Hotel Vallemar is a complete vacation in itself.
The outdoor rooftop pool, with views of Lago Martiánez, Mount Teide, and the iridescent Atlantic Ocean, is the jewel in this 4-star hotel's crown. The price of a room per night starts at €185.
Parque Maritimo Cesar Manrique, Tenerife Water Park
The Parque Martimo César Manrique is an entertainment complex in Santa Cruz de Tenerife designed by architect César Manrique. The park is near other monumental buildings, such as the Centro Internacional de Ferias y Congresos de Tenerife, the Auditorio de Tenerife, the Palmetum of Santa Cruz de Tenerife, and the Torres de Santa Cruz.
Park Spectacles In This Tenerife Water Park
Main Pool
The main pool is built on sea-reclaimed land and is protected by a breakwater. This pool has a water surface area of 6,500 square metres and access via stairs as well as "beach" type ramps which guests can use to enter the water slowly. The adult pool reaches a maximum depth of 2.20 metres.
Solarium
The solarium that surrounds the pools of more than 17,000 square metres, with its entire front facing the sea, is adorned with numerous tropical vegetation.
Waterfall Pool
The Cascada pool, located beneath the La Cascada and Palmetum restaurants, has over 3,000 square metres of water surface and an islet of volcanic stone that decorates its interior. The seawater is replenished via two 25-metre-high waterfalls.
Auditorio de Tenerife
While enjoying yourself at the Parque Maritimo Cesar Manrique, you can choose to take a stroll to the beautiful Auditorio de Tenerife.
This enormous structure, which Santiago Calatrava designed, is one of the city's most recognisable and photographed structures. One thing is certain: this ultra-modern structure next to the sea is difficult to miss.
The Tenerife Auditorium's gleaming white exterior resembles a massive wave crashing against the rocks. You can watch the Tenerife Symphony Orchestra perform for a few euros or take a guided tour of this wonder.
Hotels Near This Tenerife Water Park
Iberostar Heritage Grand Mencey
Located 1.5km away from Parque Maritimo Cesar Manrique. The Iberostar Heritage Grand Mencey is Santa Cruz de Tenerife's most perceptible hotel.
This hotel is now a fusion of styles that combines a respect for history and hotel tradition with the latest in facilities and services that a modern tourist will appreciate. The price of a room per night starts at €210.
Silken Atlantida Santa Cruz
Located 0.5km away from Parque Maritimo Cesar Manrique. The Hotel Silken Atlantida is a 4-star hotel located in the new commercial and financial centre of Tenerife's capital, Santa Cruz de Tenerife, on the Atlantic Ocean's shores.
It is the ideal city for leisure because of its fantastic year-round temperatures, which reach an average annual temperature of 21°C. Tenerife is one of the most popular tourist destinations in the world, thanks to its shops, malls, beaches, restaurants, diverse cultural events, and unique ecosystem.
The price of a room per night starts at €150.
Sercotel Principe Paz Hotel
Located 1km away from Parque Maritimo Cesar Manrique. The Sercotel Principe Paz is a 3-star hotel in Santa Cruz de Tenerife, only 20 minutes from the airport. It has 80 rooms with all the amenities needed for a comfortable stay.
All rooms have free internet access and views of the sea or the Plaza del Principe. You can take advantage of all of its amenities, including fully equipped business rooms with free WiFi. Price of a room per night starts at €105.
Final Thoughts On The Best Tenerife Water Parks
There you have it; these are some of the best waterparks Tenerife has to offer. All are incredibly outstanding in their own right. Water park lovers would enjoy their trips to any of these water parks. Have you ever visited Tenerife? Did you visit any of these water parks? Which other water parks around the world have you visited? Let us know in the comments.