Introduction
Are you confused about spending this year's vacation? Then plan for Tenerife hikes, one of the largest Canary Islands. You will be amazed to see Tenerife's most terrific hikes attracting thousands of tourists and hikers from everywhere. Though Tenerife is a part of Spain, travelers from southern Spain still require about 2.5 hours to reach Tenerife via airplane.
You can hit the road to Tenerife hikes anytime and let the natural beauty mesmerize you, but most tourists prefer visiting in winter times. Formed on volcanic rocks, Tenerife has some of the best eye-catching lunar landscapes, lush green mountains, and palm trees.
If you are worried about the expense, chillax, there is good news for you. The island is VAT-free, so the location is not accountable for taxation. So it is why it is one of the budget-friendly tourist locations for those willing to go for an adventure trip.
This article is a guidebook for all tourists and covers some of the most popular and exotic hikes in Tenerife. Here, tourists will find information about the hike's duration, distance, and the beautiful viewpoints that await them.
A Brief About Tenerife
Tenerife is the largest of the Canary Islands and has 2,034 square kilometers of area. Around 5 million tourists visit Tenerife each year because it has the most loveable tourist destination in Spain for hiking, camping, and especially for the largest carnival in the world, Santa Cruz De Tenerife.
As for its geographical importance, Tenerife is registered as a UNESCO World Heritage and consists of the third-largest volcano in the world.
Tenerife has five different climate regions that change with varying altitudes. Most of its areas are hot and have subtropical Mediterranean climates.
The Most Popular Tenerife Hikes
Tenerife Hike #1: Igueste – Atalaya de Los Ingleses
Introduction
This beautiful Tenerife hike trail starts directly with Igueste de San Andres. It is one of those Anaga hikes in Tenerife that needs no introduction. Talking about this place is a small town that lies in the district of Anaga and consists of approximately 550 inhabitants. Despite its smaller size, this town is famous for its gorgeous attractions for tourists for which the island is known.
Hike Details
Among the rest of the Tenerife hiking trails, it is a loop trail that starts from the rear of the church, Iglesia de San Pedro Apostol. Since this Tenerife hike is 5.25 kilometers long with an elevation gain of 605 meters, you would require 3 hours to complete it. The hike between Igueste to Atalay de Los Ingleses has some moderate inclination and few steeper sections that makes it a bit tricky to hike.
During this Tenerife hike, you will see the views of "Cementario", also known as Santa Rosalia Cemetery. You must mind your p's and q's if you wish to reach there as there is no connecting road to reach there. This is why the locals are bulldozed to transport their deceased ones onto their shoulders that is about 500 meters away and have a rough pathway.
When you reach 205 meters, you will see an old-fashioned maritime signal station known as Semaforo. This station was constructed in the 19th century and was operational until 1971. Then at 327 meters, you will reach a crossroad named Cruce. There is a signpost at the junction of the crossroad with El Semaforo's name marked on the right arrow, and an unmarked arrow towards the left. Hit the road to the left pointed arrow to reach Atalaya de Los Ingleses.
Finally, you will arrive at the destination, Atalaya de Los Ingleses (watchtower of English). The tower in this Tenerife hike is situated nearby, Lomo de la Cruz and Lomo Bermejo. There is also a church of Saint Peter and Anaga traffic light nearby Atalaya. You will be shaken up witnessing lavas, rock formations, and seabeds around this area which are drop-dead gorgeous.
Tenerife Hike #2: Roque De Taborno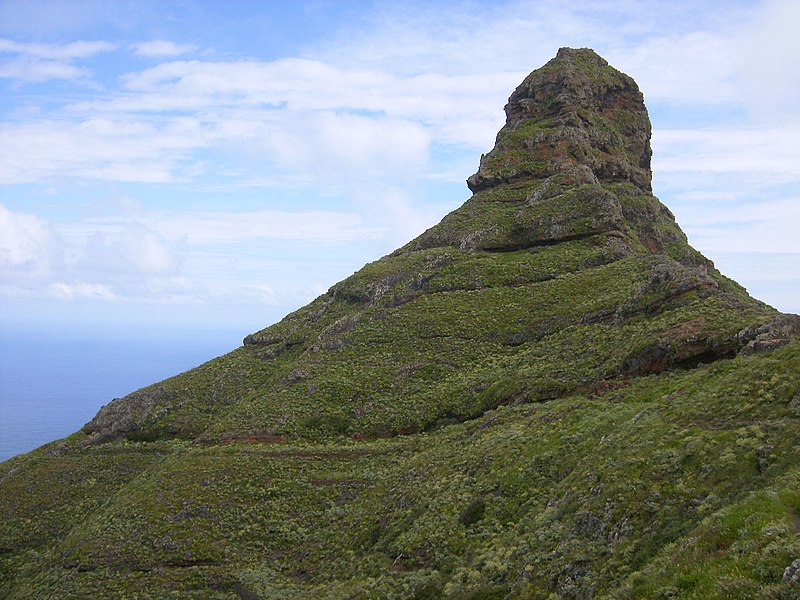 Introduction
The next Tenerife hike for you is the Roque de Taborno, also known as a volcanic plug which is 50 meters high and rises 6000 meters above the Atlantic. The knife-shaped geological texture makes this roque dangerous but also astonishing.
This is a circular Tenerife hike that shows views of the ocean and the green cliffs which are exotic in themselves. Until you reach the roque, the overall journey is easy peasy to hike as it has 389 m gain in elevation which is no sweat either. Therefore, the hike is suitable for all ages in fair weather conditions. The hike is 4 km which is not very long and takes 3 hours to finish if you stop in the middle for lunch.
Hike Details
The hike starts at the end of the town of Taborno from the left side of the terracotta-colored church. The first part of this Tenerife hike is as thin as a stick and requires great caution. Once you cross this part, you will see a drinking water spot and signal to Roque de Taborno. Stay the course and you will reach a small farm. The next section of the trail divides into two smaller roads on the left and right. From here, follow the left path to reach small buildings and then a cave that exits to the north side of the Roque de Taborno. This Tenerife hike offers exotic views of Las Caboneras, Chinamada, and the small village that are undoubtedly eye-catching.
For your way back, you can either take the same route or circle around the mountain and get maximum exposure to this Tenerife hike towards the ocean and cliffs. You will return to the same building as seen right before the cave. Now carry on to this complete route in the reverse direction and finally you will reach Taborno town. It is advisable to not hike this roque during rainy or windy weather and the wind speed reaches up to 50 km/hr in bad weather conditions.
Tenerife Hike #3: Benijo – Faro De Anaga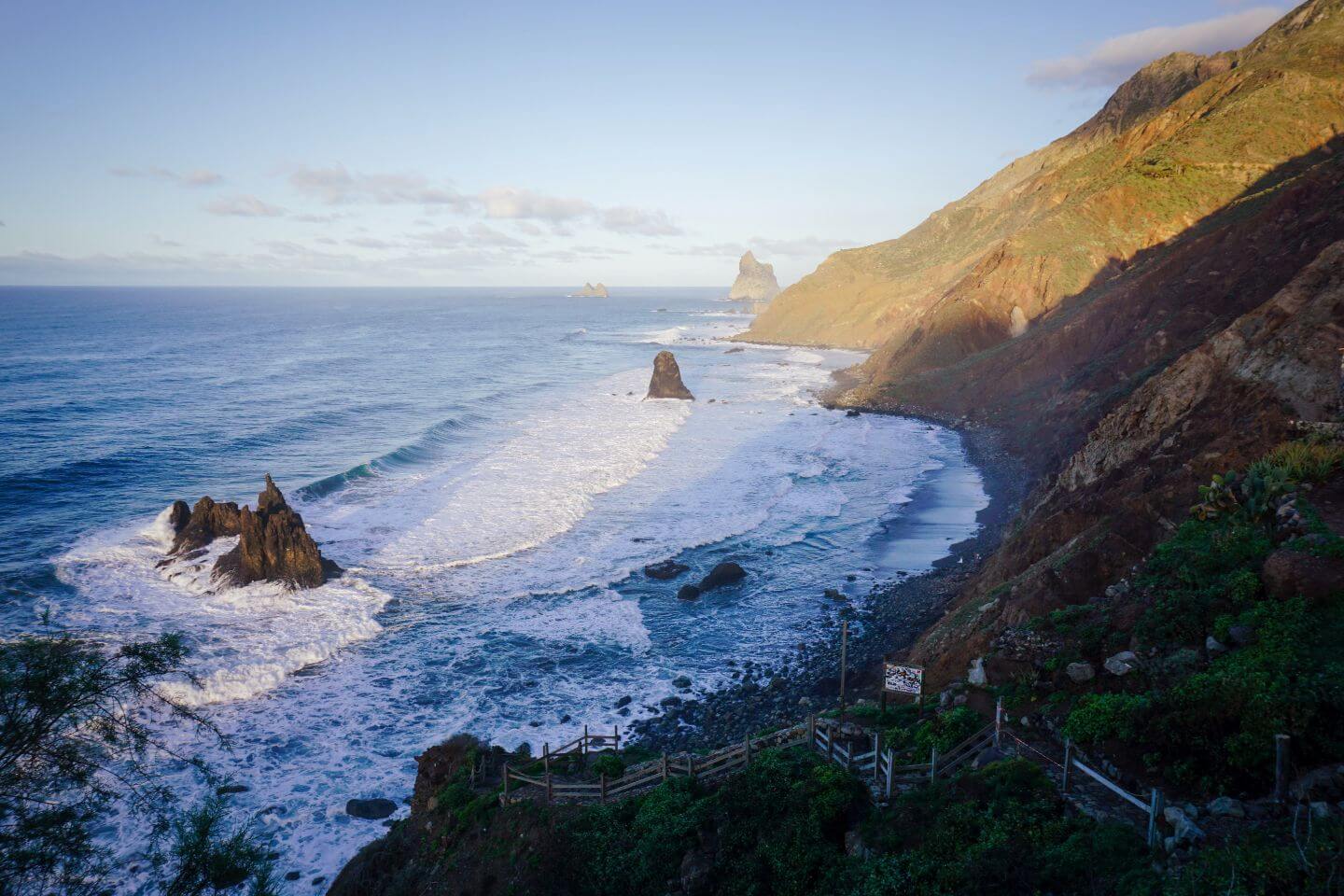 Introduction
Faro De Anaga or the Anaga lighthouse is also famous among many Tenerife hikes and offers a great experience for hiking in Tenerife. It was built in 1863, on Roque de Bermejo and is functional to date, but is located in the extremely isolated and rugged places in Tenerife.
Hike Details
The hike's trail starts from Benijo, a small hamlet in Anaga massif that lies in the municipality of Santa Cruz de Tenerife.
This hike is extremely painful as you will experience steeper slopes which makes this Tenerife hike intense. You will need 7-8 hours to complete the hike because of the 1432 m elevation gain and length of 15 kilometers.
In Santa Cruz de Tenerife, there is a restaurant called El Fronton. Once you reach there, you will find a dirt road at the restaurant's rear. This road leads to El Draguillo, a small village and the first part of the loop trail.
As you get away from El Draguillo, you will be heading towards the Anaga mountains. The distance between these two locations is about 5 km and requires careful progression due to the narrow steeper path.
On your way, the 1st viewpoint is Roques de Anaga. These are two monolithic rock formations that form some of the most gorgeous natural monuments this Tenerife hike offers. The combination is composed of Roque de Tierra (inner roque) and Roque de Fuera (outer roque) and they brave the ocean waves firmly.
The next step is your lighthouse (Faro de Anaga). Unfortunately, you can not access it because it is active. But you can experience the viewpoint where the Anaga mountain ranges join the sea.
As you pass the lighthouse, the land gets gradually steeper, taking you down to the green Anaga mountains. You will be surprised to see how lush green bushes, thick plantations, and trees overshadow the mountain. The land becomes less steep and then takes you to the village of Chamorga. If you are drained during this Tenerife hike, you can rest here at a bar that is specifically designated for hikers to catch their breath to return.
This is the last section of the Tenerife hike from where you will walk downward towards El Draguillo and finally return to Benijo. Furthermore, you can take time for a breather in front of the sea, you can also visit Benijo beach and sit on soft sand, watching beautiful cliffs and exotic crashing waves right in front of you. Since the hike is extremely exhausting, it is preferred to start your trip on a less sunny day.
Best Teide Hikes In The Mount Teide National Park
Mount Teide, reaching 3,715 meters in height, crests the highest point in Spain. The Teide hike contains massive landscapes and various hiking spots. It has the highest volcanoes above the island of the Atlantic in Europe. Therefore, it is necessary to mention the Teide hike in the list of best spots for hiking in Tenerife.
Tenerife Hike #4: Montana Samara Trail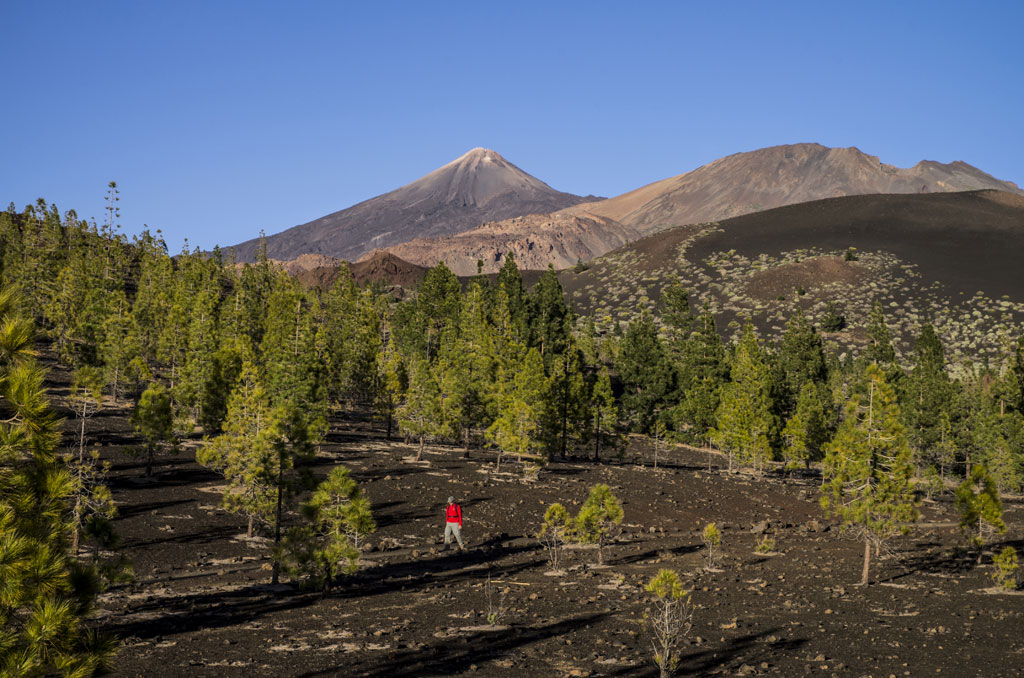 Introduction
One of the best Tenerife hikes is Montana Samara. This circular hike is a walk in the park with low difficulty. The land is a bit uneven but does not have any high-elevation gains. The total length of the Montana Samara hike is 5 km and completes in about 2 hours and 10 minutes having a maximum elevation gain of 288 m and altitude of 2000 m below Teide.
Hike Details
This Tenerife hike starts from the parking lot on TF-38 which is in the middle of Chio, a town on the northern side of Tenerife, and Boca Sauce, a round trip that takes you towards the magnificent Casada de Chinidia waterfall. If you are traveling via car and coming from the south, you need to take Guia de Isora or Chio if coming from the north.
This loop trail lets you travel past Montana de la Botija and the Montana de Samara from where you can mesmerize with the beautiful views of La Gomera and La Palma islands which then brings you back to the parking lot.
What is interesting during this Tenerife hike is where it branches to other hiking spots forcing tourists to take their hike to the next level. There is a hiking trail no. 38 which leads you to Montana de la Botija. This tour is about 1.5 hours, 2 km long, and has an altitude of 100 m. You can also visit Cuevas Negras or Montana de La Cruz de Tea from other branching hikes. Other hikes like Pico Viejo and Montana de las Corredera are also nail-biters and you can visit there too if time allows.
Other experienced tourists who have already visited the spot claim that this Tenerife hike in a clockwise direction is extremely eye-catching with lava landscapes. So you should try this route as a recommendation. You will enjoy the hike in the warm afternoons and cool mornings rather than rainy or windy weather.
Tenerife Hike #5: Roque de Garcia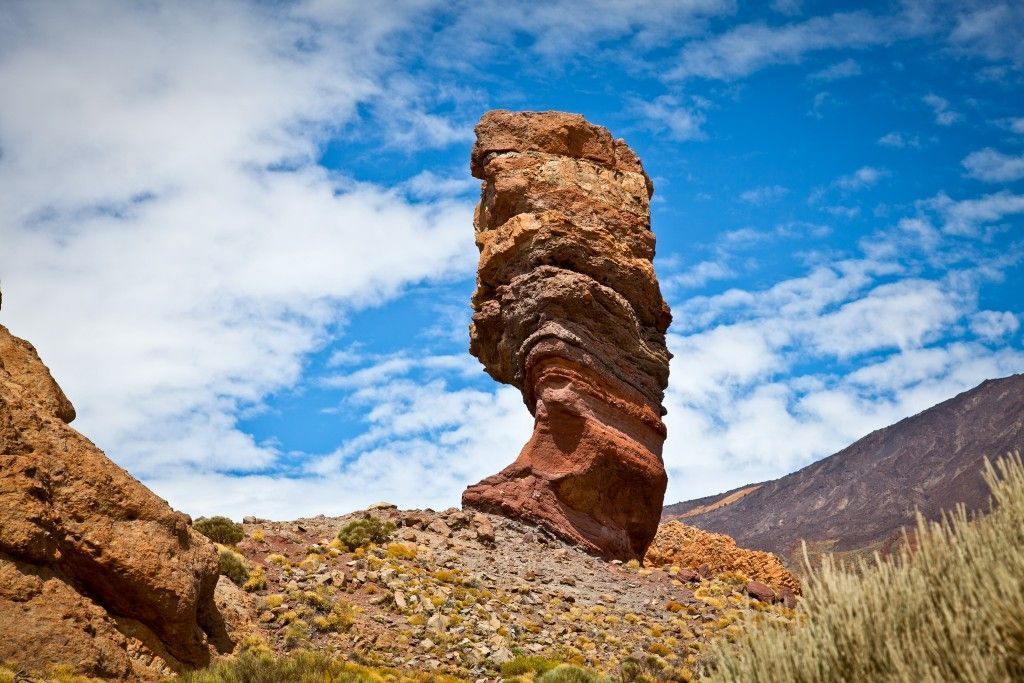 Introduction
The Roque de Garcia, composed of volcaniclastic sedimentary rock layers, is a rock pillar 27 meters in height, and one of the most visited Tenerife hikes in the Canary island. This roque also appears in the 1000 peseta banknote and this alone is self-explanatory about its importance.
This Tenerife hike is 3.5 km long and requires 2 hours to complete. It is a loop trail with an altitude of 200 m and has an elevation gain of 211 m and an elevation loss of 215 m. Therefore, this type of hiking in Tenerife is considered to be moderately difficult because its path is straight and has a well-marked pathway.
Hike Details
This is one of the best hikes in Tenerife island which starts from a parking lot at Mirador de la Ruleta, 2151 meters above the sea. Here you can view Roque de Garcia and also the Ucanca plain. While you continue your journey below Roque de Garcia, you will see Roque de Cinchado also known as the Finger of God, and the stones arranged in a circle where Guanches rested a long time ago.
The next hike segment is from Roque de Garcia to Cathedral. After walking towards the Roque de Garcia for 20 minutes, you will encounter a crossroad with Pico Viejo on the right side and a continuation of the trail towards the left that leads you to Llano de Ucanca. You need to head towards the left side of this Tenerife hike which then inclines downward on a stony path until you reach the rock of Cathedral.
Returning to your starting point is easy from the rock of the Cathedral. Starting moving ahead in a loop and you will encounter the mirador Llano de Ucanca which will ultimately lead you to mirador de la Ruleta. This hike in Tenerife looks gorgeous at sunset or night but gets very cold, so it's necessary to pack warm clothes for this Tenerife hike if you plan to go hiking at night.
Best Hikes In The Teno Mountains
As mesmerizing places like Mount Teide and Mount Anaga, Teno Mountain also offers a great Tenerife hike experience during the trip.
The Teno mountains, also known as Macizo De Teno, are one of the volcanic formations in Spain that Tenerife is known. You will find this mountain between Buenavista Del Norte, El Tanque, Los Silos, and Santiago Del Teide. It is situated on the north-western side of Tenerife and has gorgeous green mountains similar to Anaga and rocky landscapes like Teide.
Tenerife Hike #6: Punta De Teno
Introduction
Being one of the seven lighthouses to mark the coastline of Tenerife, the Punta de Teno lighthouse is still active and is built on the narrow rocky headland. The Tenerife hike towards this spot is 16.6 km long and has an altitude of 855 m. You would require at least 2 hours to reach one side. This makes the complete trip up to 4 hours duration. This hiking in Tenerife is also moderately difficult and also loops like other hikes.
There are three options to reach this hike in Tenerife, by driving, by rental car, or by bus. The spot is not available 24 hours a day and is forbidden to access for a short period during the day.
Hike Details
The hike starts from Buenavista del Norte from the path PR TF-58, Camino del Risco. This Tenerife hike gets steeper and more thrilling with rugged cliffs. Walking here, you will reach a road barrier and water reservoir to help you store water for the hiking trip. On the left side of this reservoir, there is a trailhead leading to Teno Alto. Now, this Tenerife hike inclines uphill over the Teno plateau via green fields to the remote hamlet of Teno Alto, also known as Los Bailaderos. Now you need to descend along PR TF-51 downwards at Pista las Cuevas road to reach Punta de Teno. It's a 620 m walk that branches to the right towards las Cuevas gorge. The hiking trail then converts to a paved road. Finally, you will reach the lighthouse after walking about 2 km. This is not a circular hike so you need to take the same route to return to your starting point.
This Tenerife hike is very interesting throughout the journey as it offers spectacular views. Right at the Punta de Teno, you can view Faro de Teno at some distance. If you are in the mood for more exploration, you can walk on a wooden walkway just before ascending the lighthouse that will take you to the Atlantic blue ocean where you can also take pictures of other islands.
Other Awesome Hikes In Tenerife
These Tenerife hikes are independent of the ones in national parks or mountain ranges. These hikes in Tenerife are also gorgeous and worth the trip.
Here are some of the few:
Tenerife Hike #7: Barranco Del Infierno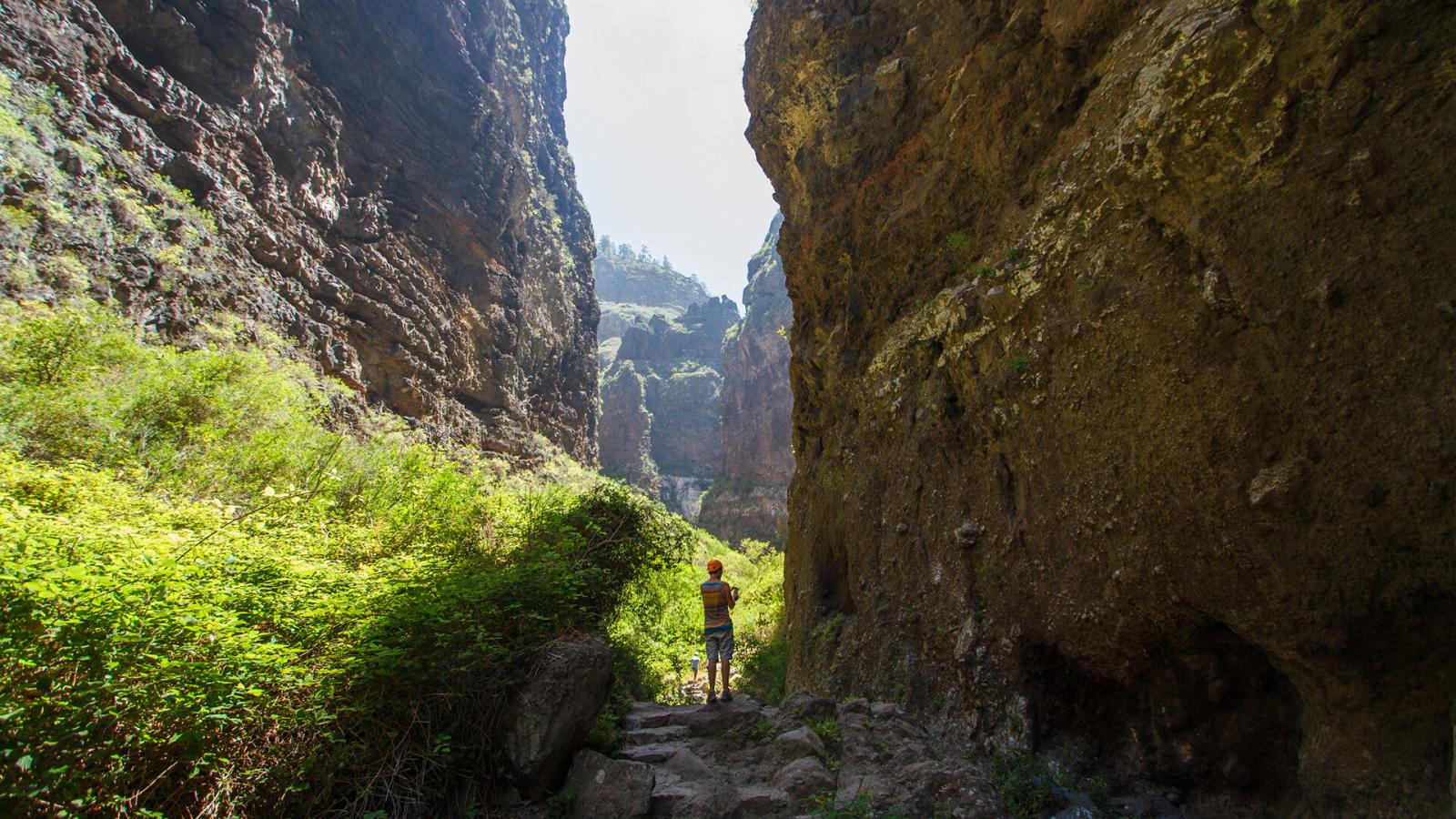 Introduction
This is also one of the most interesting Tenerife hikes. The Barranco del Infierno is a special nature reserve and this is why it only allows 20-person access per trip for merely half an hour. The restriction is imposed to protect the flora and fauna of this spot. To visit here, you need to book the trip in advance.
The hike in Tenerife is 6500 m long and takes a maximum of 3 hours to finish with 494 m elevation gain/loss. You can visit this Tenerife hike at the following times:
Summer
June 1 – September – 8:30 am to 4:00 pm
Winter
September 16 – May 31 – 8:30 am to 5:00 pm
The following are the entry rules:
• Children under 5 years of age are prohibited from entering.
• Children under 16 must be accompanied by an adult.
• Animals are not allowed
Hike Details
Once you get there, the trail starts with Calle de Los Molinos. Along your way, you will see an old mill and bee hive while walking alongside the riverbed of the ravine with high cliffs. The temperature changes with the variation in altitude from 100 m to 1300 m so you need to be well-prepared. Not only the temperature, but the species of plants also change. At lower altitudes, you will see formations of cardons and Tabaibal while the middle section will have thermophiles forests with thorn bushes and mastic trees. The higher altitude consists of pine groves with canary pine as the main element along with lucerne or broom trees etc. This hike in Tenerife is known for nature reserves with unique species of animals like hawks, ravens, sparrows hawks, etc.
The trail ends when you reach the gorgeous waterfall that is 200 meters high. Do not plan to go on this Tenerife hiking during bad weather conditions which cause landslides.
Tenerife Hike #8: Rambla De Castro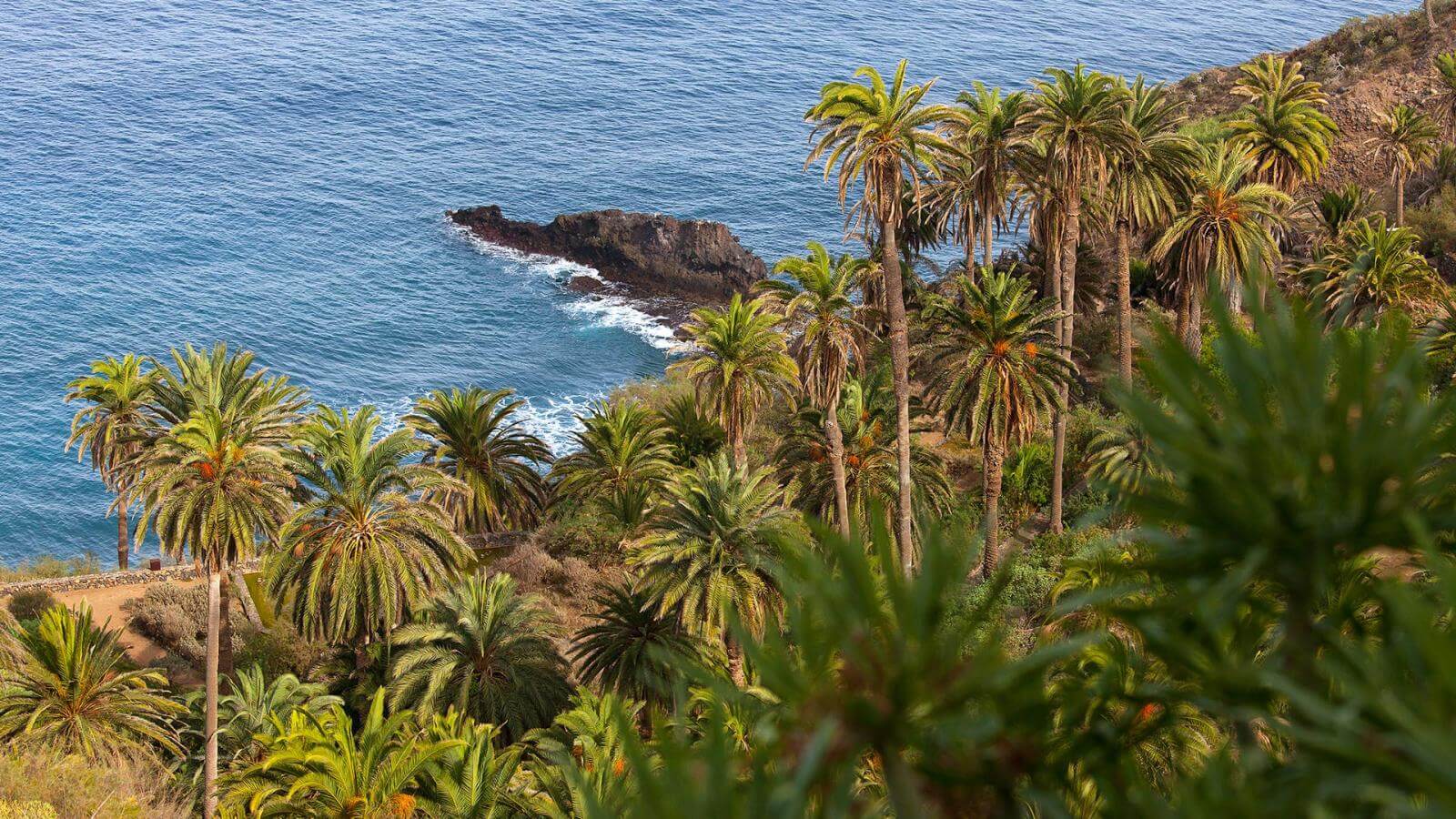 Introduction
This is one of those hikes in Tenerife known for the in-and-out route. It's 2 km long and requires 2 hours and 30 minutes to complete. It has an elevation gain of 170 meters and is fairly easy to hike.
Hike Details
This Tenerife hike starts from Puerto where you need to walk through a big hole in the fence to catch the pathway. The first viewpoint that comes across will be Roque Chico. While you move forward, you will reach Mirador Playa Los Roques, which is the first checkpoint. You need to continue walking which takes you through some house fronts and signages. Just follow the signage written by Salida Rambla de Castro. So the hike does not end on a spot but it is a coastal walk with beautiful scenery along the seashore. After walking for some time, you will encounter La Gordejuela which is a water elevator used to pump water into the fields.
The last section of this Tenerife hike takes you from some banana forests and vegetation where you will finally reach mirador san Pedro, a restaurant. It is very famous for its juices, coffee, pasta, etc. This is the last stop and from here you need to take the same route back to your resting place.
Tenerife Hike #9: Cruz Del Carmen – Punta Del Hidalgo
Introduction
This 20 km long Tenerife hike with 762 meters elevation gain is also one way so you need to take the same route for returning to your starting point. The total duration of this hike is 20 km which is exhausting but has moderate hiking difficulty so it's worth the try.
Hike Details
The hike starts from Carmen del Cruz and takes you to Laurel forest. You need to be very cautious on this Tenerife hike as the path is extremely slippery and the route markings are unclear. From there, you will reach Chinamada which is the famous cave house of Tenerife. Chinamada is a small hamlet on the northern side of Tenerife in the Anaga mountain range and is popular for having a "troglodyte community" still living in cave houses. This is the last hike point and you will need to take the same route to reach your destination.
The Takeaway
These Tenerife hikes are worth the trip once in your life. This island has got exotic Tenerife hiking trails for all kinds of tourists. Whether hikers love views of lush green mountains, like beautiful patches of landscapes, or are fond of exotic beaches, These Tenerife hikes have all sorts of locations to go hiking, nowhere to be seen anywhere else in Entire Spain.